10 Best Couple Necklaces Recommended to Lovers
People wear necklaces for all sorts of reasons. They may hold special meaning, they may complete an outfit, or they may just look nice. But necklaces can also be coordinated with a partner as a sign of love. Some couples may coordinate their clothes, but coordinating jewellery is a much subtler way of showing the world how much your relationship means to you.
Couple Necklaces
It may be rings that are more often associated with romance, but necklaces are also a popular gift to give to the one you love. And choosing matching necklaces for couples will showcase your relationship physically and further connect you emotionally. You'll feel a sense of power and happiness at getting to share a wonderful piece of jewellery with your partner and show everyone else that your love is strong.
Choosing couple necklaces will also give you something beautiful to wear every day. Whether you are with your partner or away from them, the constant reminder of their love hanging around your neck is an exquisite feeling. The most common matching necklaces that we hear about are friendship necklaces, but the matching set trend is also the perfect expression of love.
Maybe you want your necklaces to match exactly, or maybe you want them to be different yet still part of the same set. Whatever you desire, there are lots of necklaces to choose from. Below are the 10 best couple necklaces recommended for your relationship.
Cat Shape Relationship Necklaces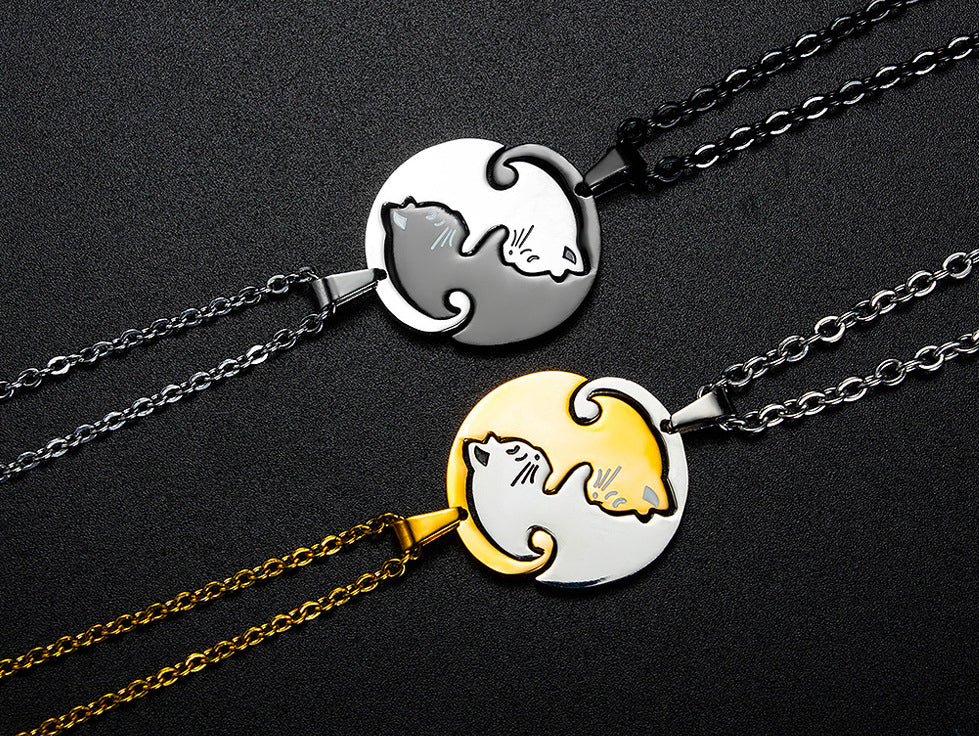 https://www.chimatch.com/collections/matching-necklaces-for-couples/products/matching-necklaces-for-couples-cat-shape-relationship-necklaces
The first matching necklaces on our list are the couples Cat Shape Relationship Necklaces. These are an adorable gift to surprise your partner with, and it's even better if you have cats! They come in two different color combinations: black and silver, or gold and silver. Whichever you choose, the necklaces are two different colors so that they are matching but not identical. The stainless steel will keep them in perfect condition, allowing you to wear your matching cat necklaces everywhere.
And the most special, romantic part of these necklaces is that they are designed to connect. So, you can wear them separately, but the two cats in the necklace set can be slotted together to look like they are embracing. What better way to prove to your partner that you're made for each other than with two necklaces that are designed to come together as one? These necklaces are the perfect gift for a partner who loves animals, and you can use them to celebrate Valentine's Day, Christmas, your partner's birthday, your anniversary, or even just a really fantastic date. Whatever the occasion, these relationship necklaces are perfect.
Crystal Cube Relationship Necklaces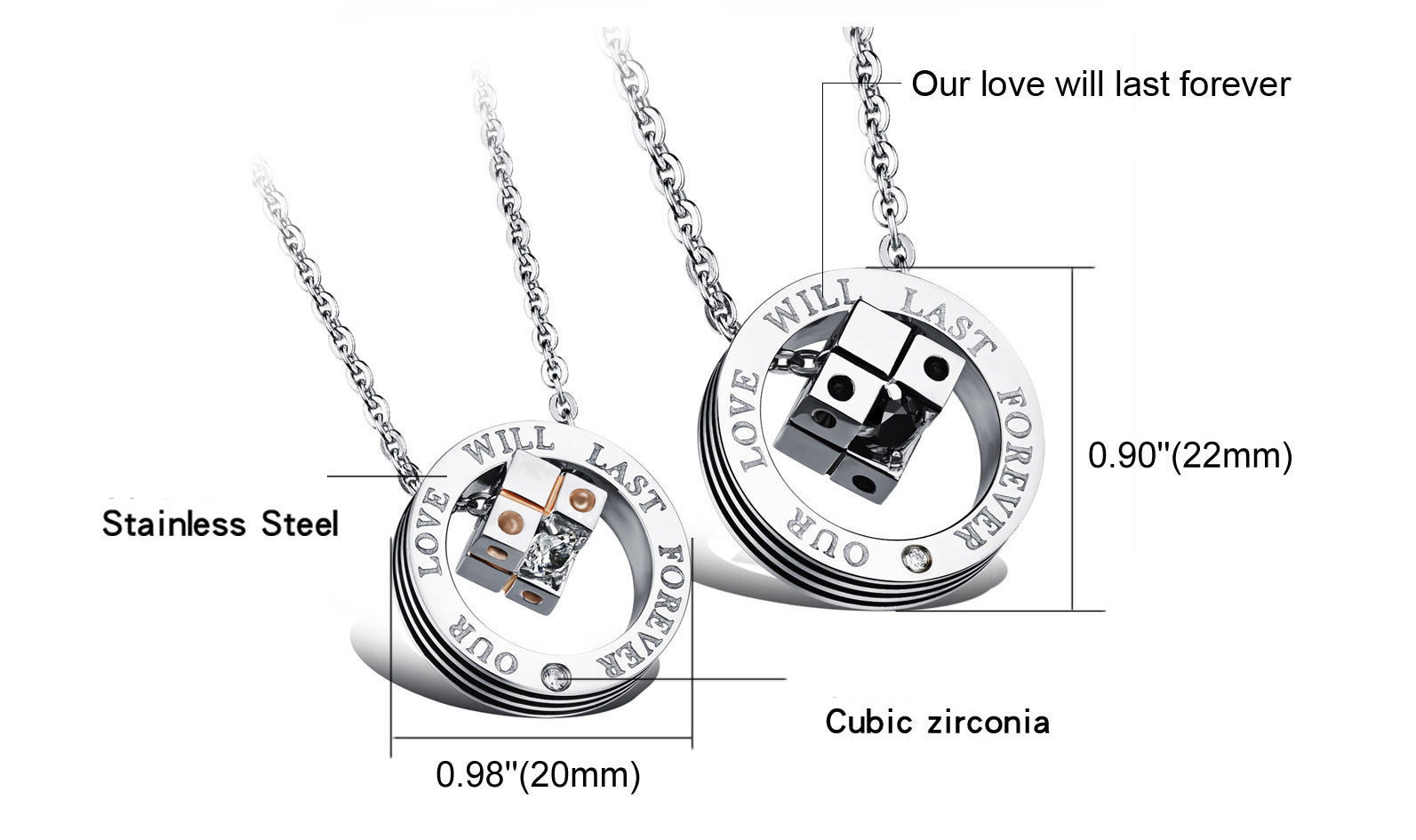 https://www.chimatch.com/collections/matching-necklaces-for-couples/products/matching-necklaces-for-couples-crystal-cube-relationship-necklaces
If you are looking for a gift that both shows and tells your love then you'll adore these stunning silver matching necklaces. They are made up of two parts: a cube pendant with a small crystal and a circle around the edge. The circle says, "Our love will last forever", making these the perfect gift to match with the one you love most. The necklaces are identical, but one cube is edged with black and the other is edged with rose gold. For the ideal his and hers gift, you'll be able to prove your dedication to your partner and have your own individual necklace.
These stainless steel necklaces are durable and designed specifically for the wearer. The male necklace has a longer chain (520mm) and a heavier weight (15g), with the female necklace being shorter (470mm) and lighter (10g). The cubic zirconia used is high quality and gives the necklaces an extra shine. The crystal on the female necklace has some extra sparkle just for her, with the male necklace's crystal being subtler but still great to look at. These necklaces prove that relationship necklaces can be catered to him and her without taking away the unique matching elements that make them a couples gift.
The Little Prince And The Fox S925 Silver Matching Necklace For Couples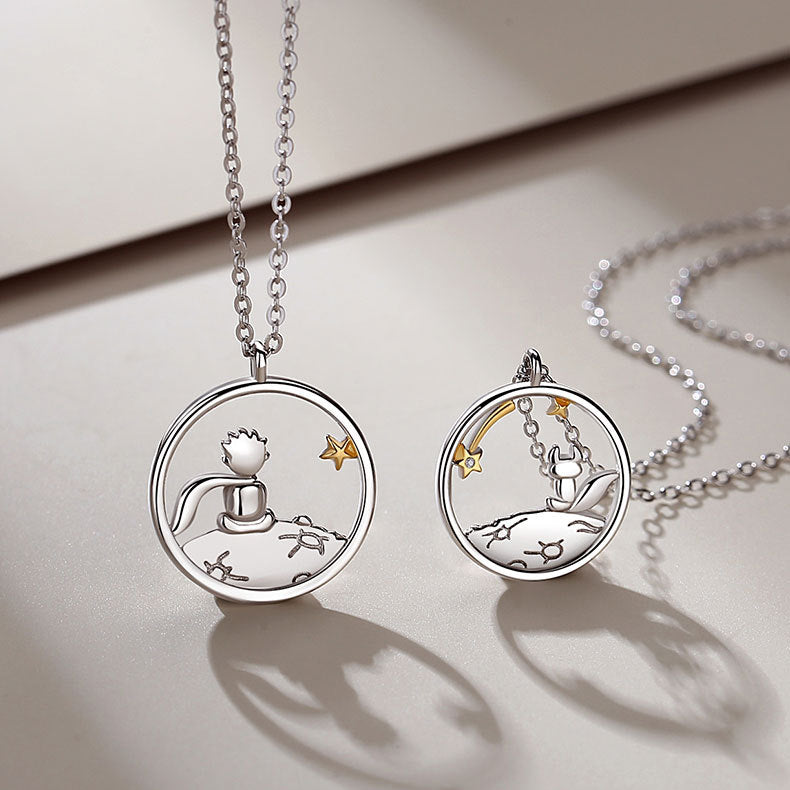 https://www.chimatch.com/collections/matching-necklaces-for-couples/products/the-little-prince-and-the-fox-s925-silver-matching-necklace-for-couples
Possibly the sweetest pair of necklaces on the list, these matching pieces of jewellery will demonstrate your dedication to your partner and show them that you never stop thinking about them when you're apart. The clever design is expertly crafted to portray the story of The Little Prince and The Fox. Using this story for a pair of lovers' necklaces may seem like an odd choice, but the concept was inspired by the fox telling the little prince that "we shall need each other" and that, to each other, they are both "unique in all the world".
If that concept isn't enough to inspire you to purchase these necklaces as a gift for your partner then consider the attention to detail in these lovely pieces of jewellery. One partner wears a necklace with the little prince sitting under a star and the other partner wears an identical necklace depicting the fox sitting under a shooting star. The details are precise, right down to the fox's tail and the little prince's scarf blowing in the wind. The necklaces are made of resistant S925 silver, with the stars represented by tiny hints of gold. The message behind these relationship necklaces is so unique so as to reflect that, as the fox says, your love is the most unique happiness in all the world.
Crystal Star Relationship Necklaces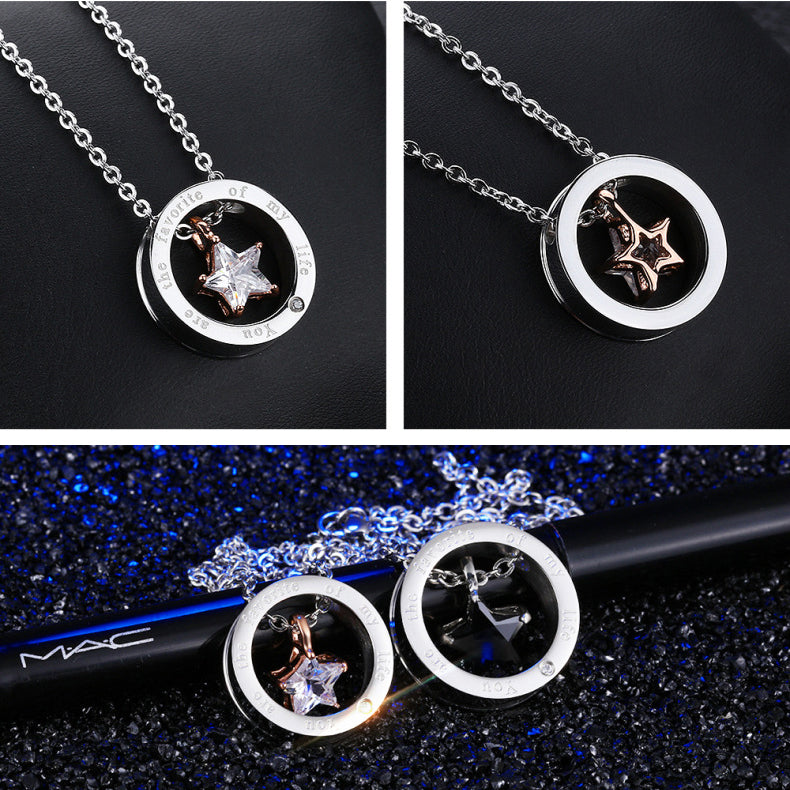 https://www.chimatch.com/collections/matching-necklaces-for-couples/products/matching-necklaces-for-couples-crystal-star-relationship-necklaces
These necklaces have a similar design concept to the Crystal Cube Relationship Necklaces, but these have a sweet star as the focus. The silver circle around the edge says, "You are the favorite of my life", and is studded with a tiny round crystal. The stars are designed differently for him and her. Her necklace has a shimmering silver crystal star with a rose gold edge. His necklace has a black crystal star with a shine of its own. There is no denying that these necklaces are a matching pair, but they are each designed individually with the utmost thought.
These necklaces are made of stainless steel, so they won't tarnish, no matter how much you wear them. The stars are delicate, but they definitely stand out as the central feature of the necklace. It really is the best way to show your partner that they are the brightest star in your sky! His necklace is 22mm and hers is 20mm. Both have the same high-quality chain to keep the necklaces safe and secure. You'll be able to pair this jewellery with any outfit to ensure that you're always matching with your partner.
Astronaut S925 Silver Relationship Necklaces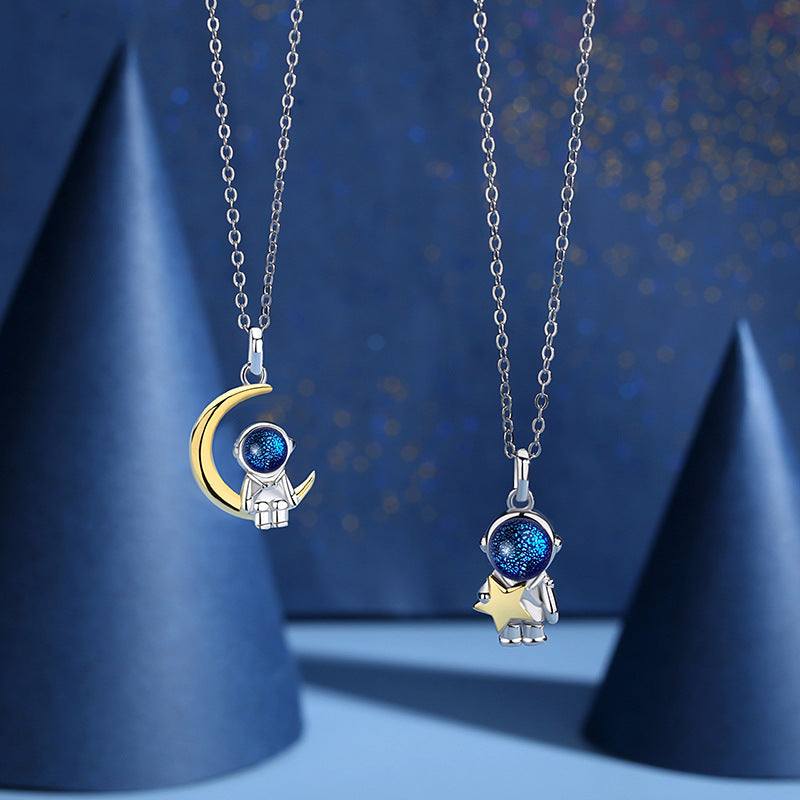 https://www.chimatch.com/collections/matching-necklaces-for-couples/products/matching-necklaces-for-couples-astronaut-s925-silver-relationship-necklaces
The design, colors, and concept of these matching necklaces for couples are all delightfully unique. The phrase, "I love you to the moon and back" is really brought to life with these coordinating pieces of jewellery. Both feature an astronaut, one sat on a gold moon and one holding a gold star. The helmets are a shimmering blue that stands out beautifully against the S925 silver of the rest of the necklace. You don't need to promise your partner the stars; you can give them in the form of this gift!
Everything about these necklaces is premium. The material will not tarnish or rust, the jewellery is low maintenance, and you can wear it every day without worry. One necklace is slightly heavier, but that won't affect how you wear them at all. You'll adore every inch of the craftsmanship that went into the design, and these necklaces will remind you that time and space may physically keep you apart at times, but love transcends both.
Hip-Hop Astronaut Relationship Necklaces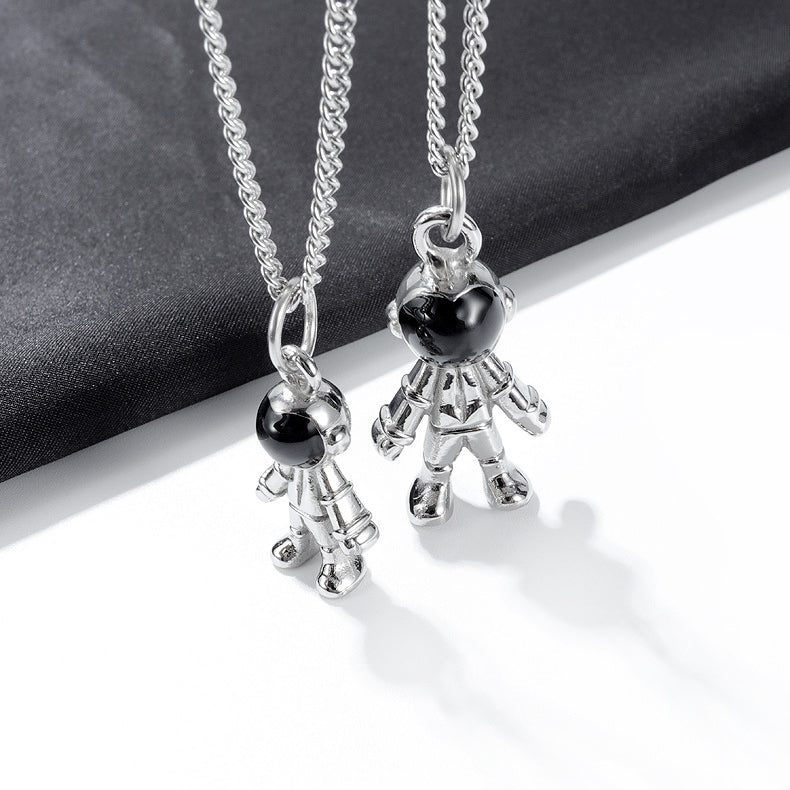 https://www.chimatch.com/collections/matching-necklaces-for-couples/products/matching-necklaces-for-couples-hip-hop-astronaut-relationship-necklaces
These matching necklaces have a simpler design, but plenty of thought and workmanship has gone into them. As with Chimatch's other space-themed pieces of jewellery, these necklaces are intended to be given as a gift that signifies how far you would go for your partner and how close you feel to them, no matter what physical distance may separate you. These necklaces are an identical pair, so there will be no doubt that you are together.
His necklace is larger (40mm by 21mm) and weighs more (28g), and hers is smaller (31mm by 17mm) and lighter (19g). Both of them have the same high definition glass used to create the astronaut's space helmet. Its black shiny appearance looks exactly like a real helmet, and it coordinates well with the stainless steel that the rest of the necklace is made from. The chain is sturdy and will keep the astronaut pendant safe. These necklaces are an extra-special surprise if you and your partner are interested in space, but they are also a great gift for anyone searching for attractive relationship necklaces. If you would rather a simple yet meaningful design, these are the necklaces for you.
Lucky Poker Relationship Necklaces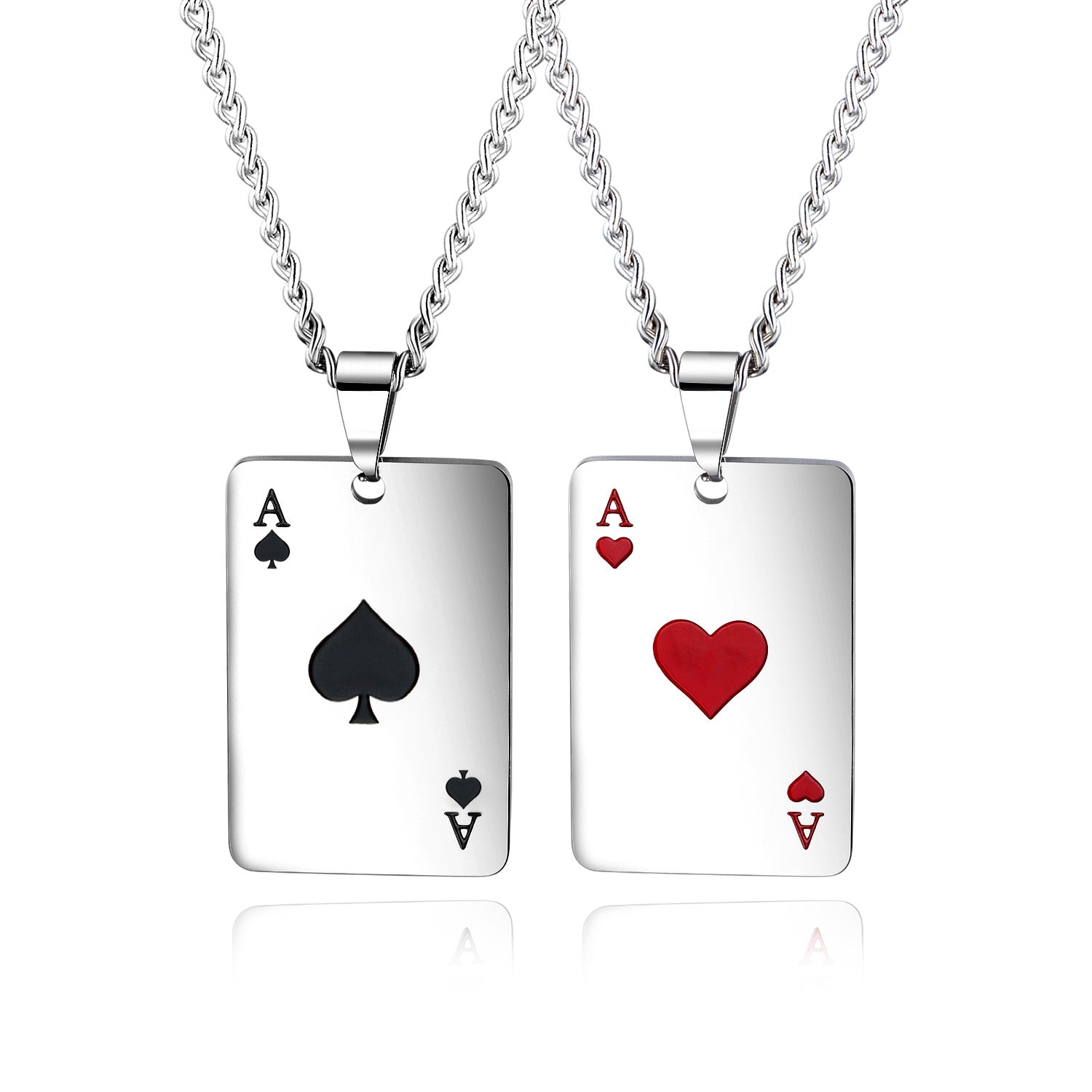 https://www.chimatch.com/collections/matching-necklaces-for-couples/products/matching-necklace-for-couples-lucky-poker
You'll certainly feel lucky to be in a relationship with a wonderful person who means a lot to you, so why not show that to them with these necklaces? These matching necklaces come as a pair of aces. Getting a pair of aces in poker is incredibly lucky and a very powerful hand to play, so the concept behind these necklaces is that you and your partner are a strong pair together who can conquer anything. One of the necklaces is clubs and the other is hearts. You could choose full romance and give the hearts necklace to your partner, or you could split them based on whether they prefer red or black.
Apart from the clever design, the necklace is a simple stainless steel that you can wear as often as you like. The pendants are shaped exactly like cards, measuring 30mm by 20mm, and the chains have a durable thickness. The back of each pendant says, "Lucky Poker" to remind you of the concept and to add an extra subtle detail to the necklaces. The necklace is light and sits nicely when you wear it, so, if you resonate with the concept, you've found your ideal couple's necklaces.
S925 Lucky Ring Relationship Necklaces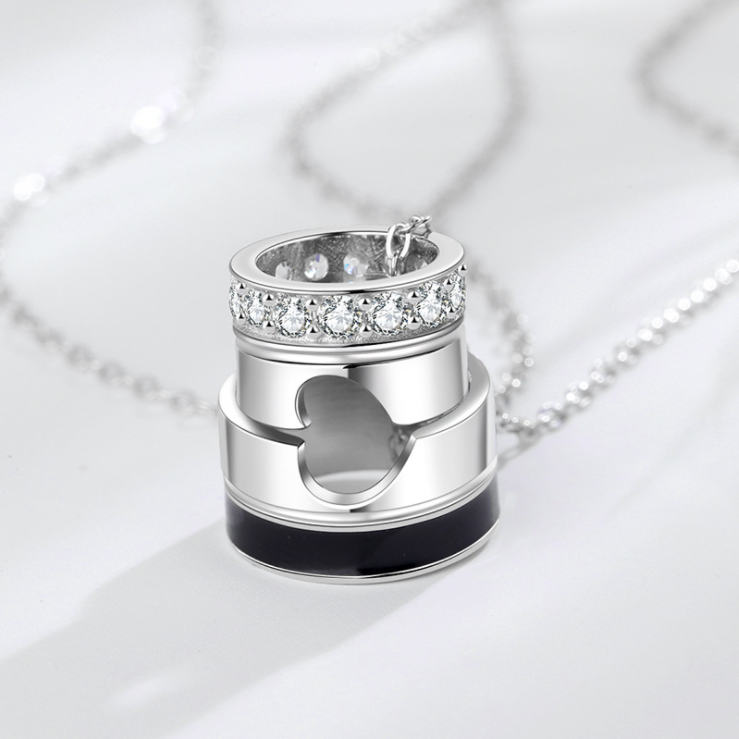 https://www.chimatch.com/collections/matching-necklaces-for-couples/products/matching-necklace-for-couples-s925-lucky-ring-relationship-necklaces
Another high quality S925 silver product, these Lucky Ring Relationship Necklaces combine two pieces of jewellery into the perfect romantic gift. After all, why choose between giving a ring or a necklace when you could do both? Following a similar design theme as some of our other matching necklaces for couples, these two necklaces are crafted with both partners in mind. The ring on his necklace has a pure black strip running along one edge. It weighs 3.8g and measures 7.6mm by 13.8mm. Her necklace features some fabulous sparkle on one edge, with the addition of the crystals making the ring pendant weigh 4.4g. It measures 7.5mm by 11.3mm.

And the most romantic aspect of these necklaces is that they truly are a matching set. When the two ring pendants are put together, a dip in the material forms a heart! This signifies that you are carrying around half a heart without your partner, and then when you are together again, your love blooms fully and you form one whole together. You'll love every little detail and bit of thought that went into the designs, and your S925 silver jewellery will last and last.
Spaceman Astronaut S925 Silver Matching Necklaces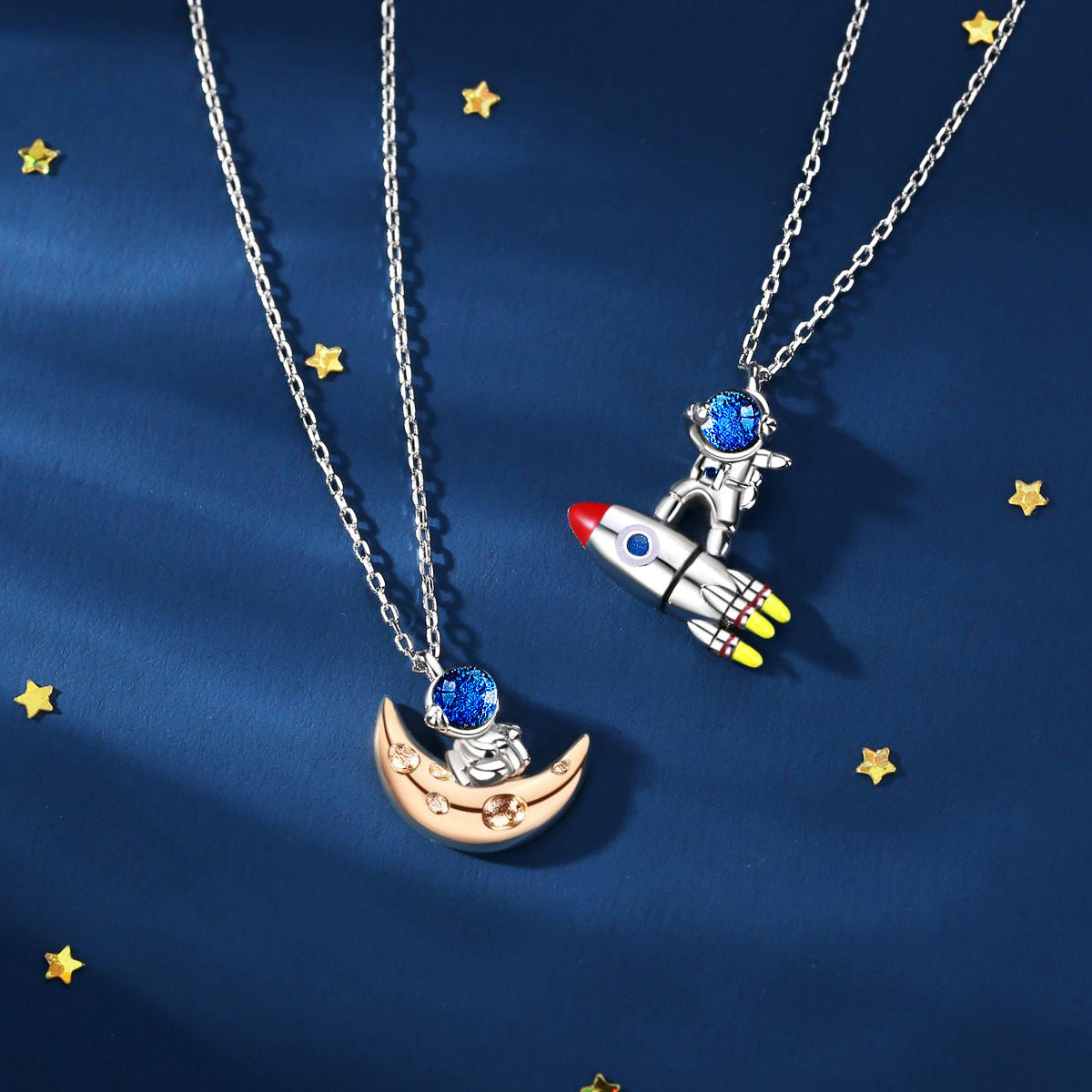 https://www.chimatch.com/collections/matching-necklaces-for-couples/products/couple-necklace-spaceman-astronaut-s925-silver-matching-necklaces
The space theme may be popular with Chimatch, but that is because every design is completely unique and inspired by a different concept! These relationship necklaces are absolutely adorable and will emphasize the fun factor that every relationship needs. Though these are not identical, they make sense as a pair as soon as you see them. One features an astronaut stood on top of a rocket and the other features an astronaut sat on a gorgeous rose gold moon. The amount of detail is astounding, right down to the individual buckles on the space suits.
With a concept like "I am willing to go to space and bring the moon back and give it to you", is there any surprise that these necklaces are considered a romantic gift? They may no aspire to the �traditional' love tokens of hearts and flowers, but a unique gift to share with your partner is much more special and personal. The rocket is perfectly touched with color and the helmets are a sparkling blue that makes it look as though the astronauts really are facing the stars. His necklace measures 63cm, hers measures 54cm, and both pendants measure just 2cm. So much detail is condensed into two tiny pendants that any partner will love.
Lock Bracelet And Key Necklace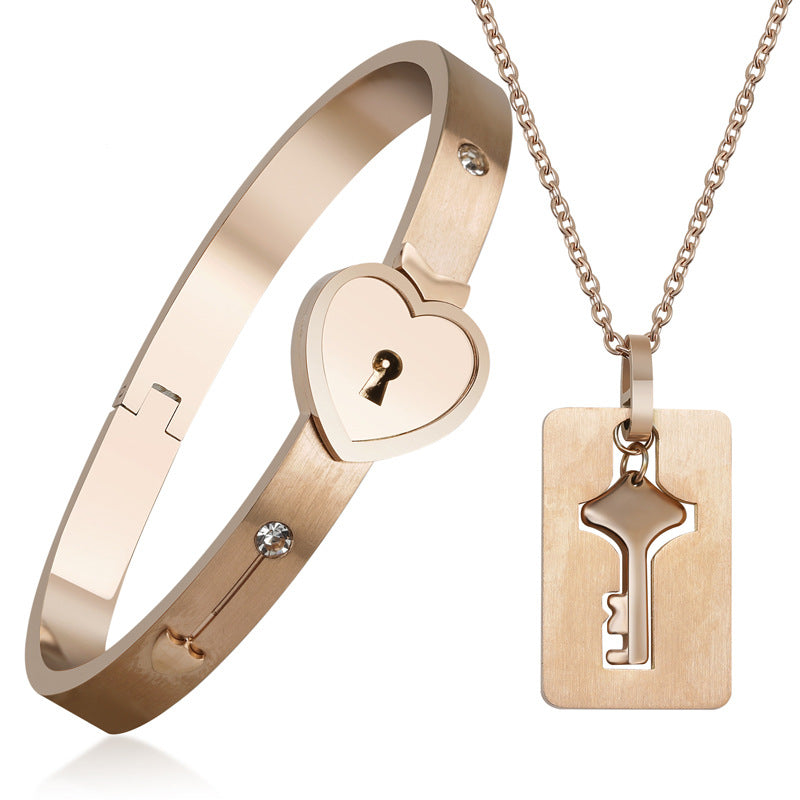 https://www.chimatch.com/collections/matching-necklaces-for-couples/products/lock-bracelet-and-key-necklace-matching-bracelet-for-couples
This final product may not be a set of two matching necklaces, but the idea is so purely romantic that it had to be included. This matching jewellery consists of only one necklace, which is a small key hung on a chain. The corresponding piece of jewellery is a bracelet, which is studded with a few crystals and has the matching keyhole. People often tell the person they love that they've "got the key to my heart" and that concept of loyalty and security is what inspired this matching set. If you want to show your partner how much their heart means to you, wear the necklace, and if you want to show your partner how much you trust them with your own heart, wear the bracelet.
The set comes in silver or rose gold, so you can choose whichever you prefer. Both designs are plain, which makes them easy to match with any outfit. Wearing matching relationship necklaces is beautiful, but you can extend that same romantic concept to two different pieces of jewellery. You can also switch it up sometimes so that you both get a chance to wear the necklace and feel the rush of happiness that comes with holding the key to your partner's heart. Whatever you decide, this gift will demonstrate the strength of your love.
How To Show Commitment With A Relationship Necklace

Whichever matching set you choose, you should frame your gift as an act of commitment to your partner. Choosing to wait for a special occasion, especially a romantic one like Valentine's Day or the anniversary of your first date, will make the night even more special and give you a constant reminder of how wonderful it was. But you don't have to wait to present the matching set to your partner because an impromptu gift is just as romantic and special!
Telling your partner about the concept behind all of those 10 couple necklaces will demonstrate how much thought you have put into this commitment. The assured quality of the jewellery also means that the necklaces won't tarnish or break, so proof of your commitment will be with your partner for a long time. A necklace is often a lot more convenient to wear than a ring or bracelet because of how much we use our hands, so your necklaces will stay pristine and safely out of the way.
Bottom Line
Showing your partner that you will proudly wear a visible symbol of love that matches their own every day is one of the sweetest ways to show commitment. It is the same concept as a promise ring or a distance bracelet. Your partner already knows that they are your one and only, but that doesn't mean that you should stop reminding them of that. You can say "I love you" without moving your lips sometimes, and these matching couple necklaces do just that.
---